Coventry's unique performing ensemble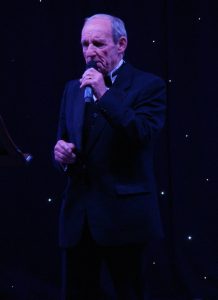 We heard yesterday that our great friend Austin Wootton sadly passed away on Friday. Austin was one of the longest serving performers at UMCM, with a beautiful baritone voice, and was an inspiration to us all. His performances were always deeply moving and he offered everyone else his personal support to feel confident to perform to their highest ability.
He will be greatly missed and we are all thinking of his family and of the wonderful moments that we were lucky to share with him.
Austin's very special rendition of Gorney and Harburg's Buddy Can You Spare A Dime was charged by his life story with his memory of his father coming to Coventry to work on the war reparations. Austin was a modest and very tender man who loved the romantic songs and their stories.
Providing performance experience for musical learners
Formed in 2012, UMCM is a Coventry based charitable trust that organizes concerts for musical and artistic learners. We give our members opportunities to perform as soloists and in small ensembles, including alongside more experienced musicians and professionals.
Our family friendly programme, from classical concerts to cabaret, is educative and fun. A typical UMCM concert is a blend of music, dance and words. A wide range of music is covered: medieval, classical, musical theatre, folk, contemporary, and original music. Being part of one of our events is to experience the diversity of the musical and artistic world.
Our expanding collective of singers, dancers, flautists, pianists, guitarists, writers, actors and choirs all contribute to our performing community.