UMCM have been a key partner in the campaign to raise funds to restore the 1878 Bechstein grand piano at the Parish Church of St John the Baptist, Coventry. This instrument is quite an early Bechstein instrument, built at a time when the design of grand pianos was still evolving. Therefore it will have a unique sound and tone different to that of the modern concert grand but closer to the tones and timbres heard in the Romantic musical period.
Fundraising
The estimated cost of restoration was £9,500. The appeal started in earnest in 2017. Thanks to the tireless efforts of members of the church and UMCM's Martin Griffiths, and of course many generous donors, the cost was successfully raised and the piano was collected for restoration company by Courtney Pianos of Oxford, in November 2017. The work required includes re-stringing, renewing the action, restoring the cabinet work, and repair of a damaged leg.
Celebration concert
The work will be completed by June 2018 and and its first time of post-restoration use will be a celebration concert on Saturday 23 June, with a recital by Russian concert pianist Varvara Maggs. You can get tickets here:
St John the Baptist Church
St John the Baptist Church is one of Coventry's most historic buildings. Dating from 1344 and situated in Fleet Street, leading to the medieval Spon Street, it holds a special place in the heart of the city. As well as its historic importance it is also of course a current active Anglican church covering large residential communities in the city centre and Spon End.
Music at St John's
The Church Council are keen to promote classical musical concerts to attract more visitors. Naturally, such events will be in sympathy with and respect the historical value of the building together with the ethos and value of religions to local communities. Restoration of the piano is an important part of this strategy. A piano of this vintage restored to excellent condition will attract concerts featuring local amateurs and groups, recitals by international concert pianists, larger concerts involving orchestras and choirs, and will be an important addition to Coventry as City of Culture in 2021.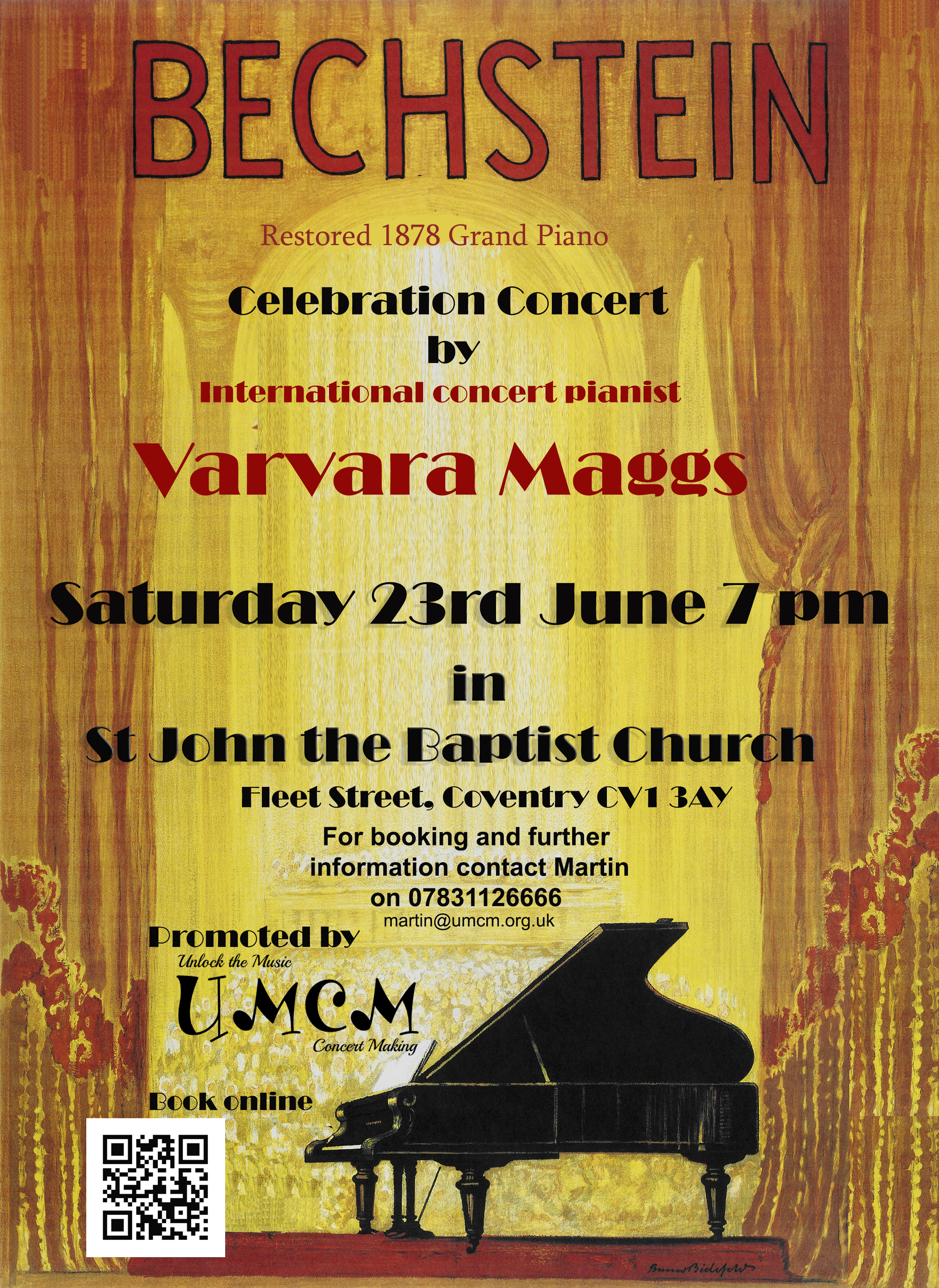 Restoration
Some pictures showing the restoration, from left to right: (1) in the church pre-restoration (2) certificate of release from Bechstein to Paterson & Sons of Edinburgh, 1878 (3) piano body in Courtney Pianos workshop (4) frame (5) Bechstein badge on soundboard (6) piano body showing original rosewood veneer (7,8) Frame back in place and also showing Bechstein's trademark "Bechstein Blue" felts.